I rarely have the chance to show what I am actually doing at university. But yesterday was the final presentation of a practical course on iOS development and I'd like to share the result.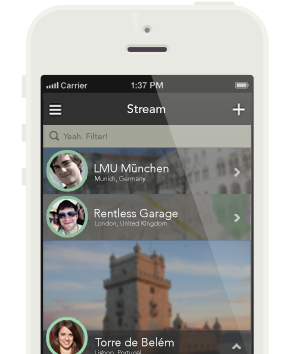 Locationaire
Locationaire is an app to bookmark and share the best locations you discover and share them with your best friends. When you and your friends are traveling around the globe Locationaire allows to easily share the places you discover and to find the places your friends like.
We – Fabian, Felix, Jörg and me – didn't aim to get people to constantly save every location. Instead we focused on getting honest recommendations. Therefore Locationaire doesn't have any global stream or similar functionality but only shows the items of your friends, the people who you trust and whose taste you value.
You can find more information on locationai.re.
Technicalities
For me personally it was the second time I actively developed on iOS and the first time to probably get an actual app out the door. We used Parse as backend and Foursqaure to get locations, which allowed us to mostly focus on the iOS part of the project.
Quo vadis?
At the moment we are happy that we got that far and rocked our presentation. Although we have to catchup with our other courses for now, we plan on bringing Locationaire to the AppStore.
To get if even faster, we start a private beta in the upcoming days. If you are interested feel free to contact us.